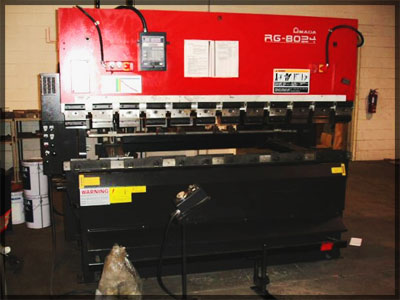 In spite of these difficult financial times, Wirefab continues to invest in their future with the addition of yet another brake press. The 88- ton, Amada RG-8024 will be Wirefab's 19th hydraulic press and the 4th CNC programmable ram, hydraulic press in Wirefab's panoply of wire forming equipment. Wirefab Continues to GrowWith more press options available, Wirefab improves their ability to turn jobs around quickly.
The up-acting Amada features an 8-foot bed and ram with backstop, a 98" maximum bend length and quick-change tooling. It offers the increased flexibility of multiple positioning, bending and angling. The Amada RG-8024's 2-axis computer numerical control can handle up to 99 bends and its large pump provides extra speed for longer production runs.
Wirefab Inc. is a leading, custom manufacturer of wire, tube and sheet metal fabrication. Their capabilities encompass state-of-the-art technology to straighten, form, mig & tig weld, bead, coin, stamp, swage, punch, thread, drill and mill. Wirefab's wire products include; bakeries, OEMs, commercial restaurants and retail businesses as well as the science, military, medical, electronics and computer industries.