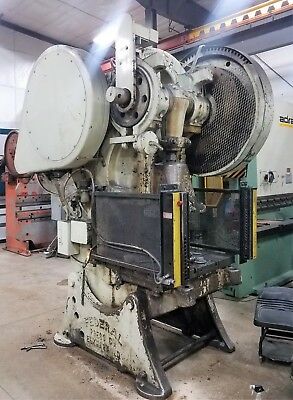 Wirefab Inc. has recently added a J&L OBI (open back inclinable) 100-ton press to their wire manipulating machinery.
The J&L OBI 100-ton press gives Wirefab the ability to bend, swage, stamp, punch and cut wire up to ½ inch or bar stock up to 1 inch. It offers the advantage of automatic feed and stamping of coiled strip steel and has a 2-foot by 3-foot bed.
The J&L OBI 100-ton press will allow Wirefab to produce larger products and produce them faster than previously done with their 40-ton press.
Wirefab inc. is a leading, custom manufacturer of wire, tube and sheet metal fabrication. Their capabilities encompass state-of-the-art technology to straighten, mig & tig weld, bead, coin, stamp, swage, punch, thread, drill and mill. Wirefab's wire products include; bakeries, OEMs, commercial restaurants and retail businesses as well as the science, military, medical, electronics and computer industries.