Wirefab's clientele is truly diverse, broadly reaching across several industries and markets, each in need of wire product customization.
Commercial Restaurant Equipment


Wirefab supplies many of the country's leading restaurant equipment manufacturers with accessory items such as oven racks, grills shelving, deep fry screens, crumb screens, handles and many other custom items.
Bakeries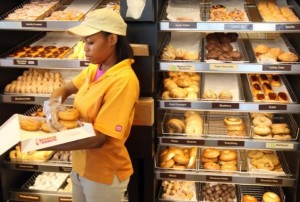 Wirefab is a leading manufacturer in wire-based products for the baked goods industry. Nationally recognized brand leader, Dunkin' Donuts and convenience store giant 7-Eleven, are just two examples of Wirefab's bakery clientele. Wirefab produces customized baskets, bins, racks, screens, trays and more.
Original Equipment Manufacturers


Wire applications are unlimited. Do you need a specialized wire component for your product? Wirefab is the clear choice for supplying your requirements or working with you to solve design issues. Component accessories have been provided for an array of applications including toys, furniture, games, automobiles, bicycles, appliances, electronics, etc.
Marketing and Display


Wirefab assists retailers and wholesalers with their marketing and display demands. The company has manufactured various point-of-purchase (POP) displays for all types of retail industries, helping to increase a client's brand awareness and its sales. Wirefab's retail product display solutions include baskets, dividers, wire slatwall and grids, hangers, hooks, shelving and custom designs for all applications.
Science and Medicine

The scientific and medicinal industries require the most technologically-advanced wireform solutions available. Wirefab has provided these industries with cages, cage tops, test tube rack material, handling baskets and security frames within the laboratory; as well as medical carts, equipment storage trays, material processing trays, IV hangers and more in the hospital environment.
Electronics and Computer Manufacturers

Wirefab has worked with the leading electronics and computer manufacturers since its founding and earned its quality reputation by initially assisting the booming computer industry for the past three decades. Wirefab produces the finest computer paper guides, and catchers, cable guides, cable trough weldments, card cages, latch wires, chassis and more.