LASER CUTTING – NEW!!
Wirefab now offers 2D laser cutting over a wide variety of material and gauges!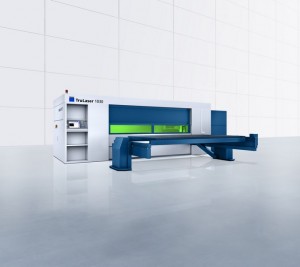 With our state of the art Trumpf Fiber Laser we can go from CAD design to cut part with amazing speed and accuracy.
 Whether it's a stand alone part or a component for your larger project, such as a bracket or even a simple sign channel, Wirefab can manage it for you!
Wirefab has designed and manufactured custom wire displays for some of the leading retailers in the country. We can offer:
Innovative Ideas – with the know-how and automation to make them real.
Creative Design – assistance to meet your performance and budget goals.
Flexibility – in manufacturing and sourcing to provide the right solution for your situation.
Versatility – in material applications – wire, tube, sheet metal, stampings, finishes .
Capabilities
Design and Development
Solidworks  used for all design and development and rendering on all new jobs.
Prototypes and samples as required.
Materials
Cold Rolled Steel
Stainless Steel
Aluminum
Gauges
Wire sizes range from .060″ to .500″ diameter
Tolerances
+.030″ is standard; down to +.010″ where practical.
Manipulation
Straightening
Cutting Forming
Bending
Resistance Welding
MIG Welding
TIG Welding
Beading
Coining
Stamping
Swaging
Punching
Threading
Drilling
Milling
Chamfering
Ring-Coiling.
Finishes Available
Chrome
Nickel
Zinc Plating
Powder Coating and Vinyl Dips
Passivated and Electropolished Stainless Steel
Packaging